Based on 863 Google reviews
Save Money and Boost Energy Efficiency: Hire Attic Pros And Insulation Installers In Fairfield
Sick of dealing with noisy neighbors? Attic Pros can install insulation in your Fairfield home for a peaceful living environment.
Contact us now to schedule your free inspection and get your quote immediately.
"They did exactly what they said they would do. Polite people at all levels. Nico explained what they could do with our problem..."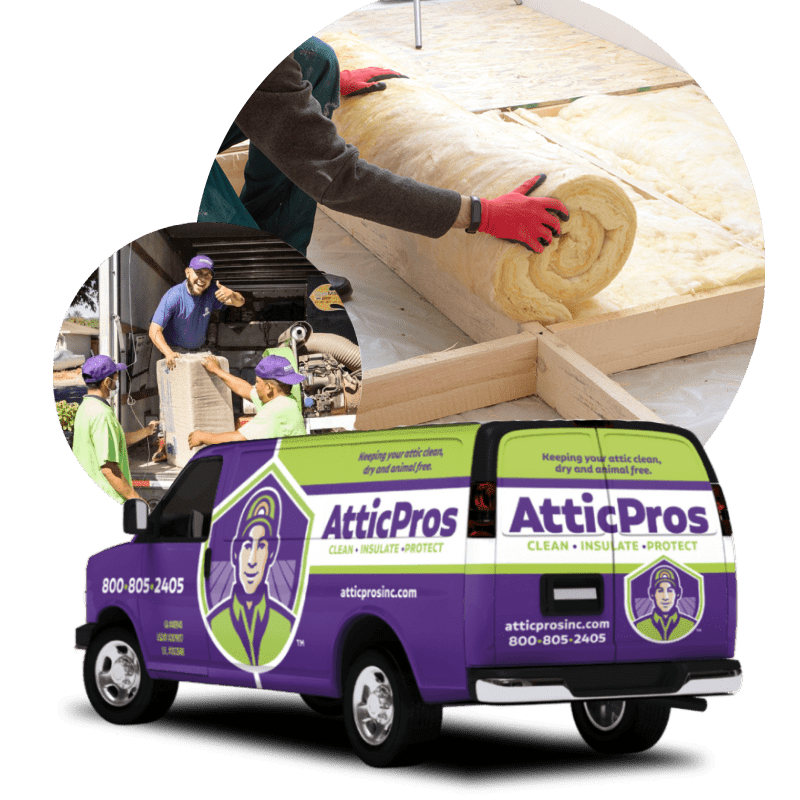 Get Started with Insulation Installers' Services
Effortlessly Protect Your Property with Top-notch Insulation Solutions
Schedule Your FREE Inspection
Our team will arrange a visit to your property, assess your insulation needs, and then provide you with a comprehensive estimate detailing costs and installation timeframe.
Enhance Your Property's Efficiency with Quality Insulation
Once you're ready to proceed, we'll confirm the installation date. Our skilled professionals will meticulously install the insulation, ensuring your property is shielded with effective insulation solutions.
Continual Support and Assurance
Prior to completion, we conduct a thorough inspection to guarantee your utmost satisfaction. We're dedicated to providing ongoing assistance and will follow up to ensure the continued effectiveness of your insulation system.
Based on 863 Google reviews
Schedule your FREE inspection and estimate right away!
Benefits of Insulation Installers:
Professional insulation installers ensure proper installation.
They help you save on energy bills.
They provide customized insulation solutions.
They use high-quality materials and tools.
They can identify and address any insulation problems.
They have the necessary expertise and experience.
They can help improve indoor air quality.
Their services can increase the value of your property.
An important point to remember: Don't attempt to tackle the insulation on your own. The insulation should not be tried on your own.
Insulation installation may seem like a simple task, but the truth is that it requires a unique set of skills and knowledge. Without proper training and experience, the average homeowner is likely to make mistakes that can compromise the effectiveness of their insulation – and ultimately lead to bigger, costlier problems down the road.
Don't risk it. Contact Attic Pros today to schedule your free estimate and experience the peace of mind that comes with working with a team of licensed, insured professionals.
Book Your Free  Inspection For Insulation Here
Book a Free Estimate – (800) 543-0382
Attic Pros offers a detailed inspection report for every customer we work with. Here's what we include:
Check for proper ventilation: Proper ventilation is important to prevent moisture buildup and mold growth in the attic or crawl space. The insulation installers should ensure that there is adequate ventilation and that all vents are clear and unobstructed.
Verify proper insulation levels: The insulation installers should check the existing insulation levels and ensure that they meet the recommended levels for your area. They should also make sure that any new insulation is installed correctly and evenly throughout the space.
Look for signs of pests: Insulation can attract pests such as rodents, insects, and bats. The insulation installers should inspect for any signs of pest infestations and make sure that any existing problems are addressed before installing new insulation.
Ensure proper installation: The insulation installers should ensure that the insulation is installed correctly and according to the manufacturer's instructions. This includes ensuring that the insulation is not compressed or unevenly installed.
If you're looking for reliable and experienced insulation installers, look no further than Attic Pros. Contact us today to learn more about our insulation installation services.
Are There Any Environmental Benefits To Insulation Installation?
Reduced Energy Consumption
A well-insulated home uses less energy to heat or cool. This means that you can use less energy to achieve the desired temperature, resulting in lower energy bills. Additionally, using less energy means that fewer fossil fuels are burned to produce electricity, which ultimately reduces greenhouse gas emissions.
Reduced Carbon Footprint
Carbon footprint refers to the amount of greenhouse gases (mainly carbon dioxide) that are released into the atmosphere as a result of our activities, including heating and cooling our homes. By reducing energy consumption, insulation installation can help reduce carbon emissions and help fight climate change.
Reduced Landfill Waste
Using insulation made from environmentally-friendly materials helps to reduce landfill waste. Many insulation products are made from recycled materials, such as recycled denim, recycled plastic bottles, and even recycled newspaper. Choosing these products helps to reduce the amount of waste that ends up in landfills, reducing the environmental impact of our waste.
Improved Air Quality
Proper insulation helps to seal your home, reducing the amount of air leakage. This can lead to improved air quality inside your home by reducing the amount of outdoor pollutants that can enter your home. Additionally, sealing your home can reduce the amount of moisture that enters, preventing mold growth and improving the overall indoor air quality.
Fully Licensed & Insured
Our professionally licensed and trained technicians deliver work of the very highest standard.
Satisfaction Guaranteed
Enjoy peace of mind with our 1-Year Craftsmanship Warranty and hassle-free customer service.
Transparent Pricing
No hidden prices or upfront fees. Our detailed estimates give you exact prices and service items.
Dealing with Insulation Issues?
Book your FREE Inspection today!
Here's what your free inspection includes:
"They did exactly what they said they would do. Polite people at all levels. Nico explained what they could do with our problem..."
Frequently
Asked Questions
When choosing insulation, important factors to consider include the R-value needed for your climate, the type of insulation that best suits your needs, the installation process, the cost, and the environmental impact of the insulation material. Other factors may include fire resistance, moisture resistance, and soundproofing capabilities
Fiberglass, mineral wool, and cellulose can all be recycled. Recycling insulation can help reduce waste in landfills and conserve natural resources. However, not all recycling facilities accept insulation, so it's important to research local options.
Locally owned and operated
Proudly serving the Greater Bay Area
Alameda
Albany
Ashland
Berkeley
Castro Valley
Cherryland
Dublin
Emeryville
Fairview
Fremont
Hayward
Livermore
Newark
Oakland
Piedmont
Pleasanton
San Leandro
San Lorenzo
Union City
Alamo
Antioch
Brentwood
Concord
Danville
Discovery Bay
Lafayette
Martinez
Moraga
Oakley
Orinda
Pinole
Pittsburg
Pleasant Hill
Richmond
Rodeo
San Pablo
San Ramon
Walnut Creek
Belmont
Burlingame
Daly City
East Palo Alto
Foster City
Half Moon Bay
Hillsborough
Menlo Park
Millbrae
North Fair Oaks
Pacifica
Redwood City
San Bruno
San Carlos
San Mateo
South San Francisco
Alum Rock
Campbell
Cupertino
Gilroy
Los Altos
Los Gatos
Milpitas
Morgan Hill
Mountain View
Palo Alto
San Jose
Santa Clara
Saratoga
Stanford
Sunnyvale
American Canyon
Angwin
Calistoga
Deer Park
Napa
Oakville
Rutherford
Silverado Resort
St. Helena
Yountville
Based on 863 Google reviews
Schedule your FREE inspection and estimate right away!
Take a look at what our customers are saying…
Based on 863 Google reviews