Based on 863 Google reviews
Protect Your Home from Cold Weather: Hire Attic Pros, Your Skilled Insulation Installers in Vacaville
Tired of high energy bills? Let Attic Pros install insulation in your Vacaville home and start saving money today!
Contact us now to schedule your free inspection and get your quote immediately.
"They did exactly what they said they would do. Polite people at all levels. Nico explained what they could do with our problem..."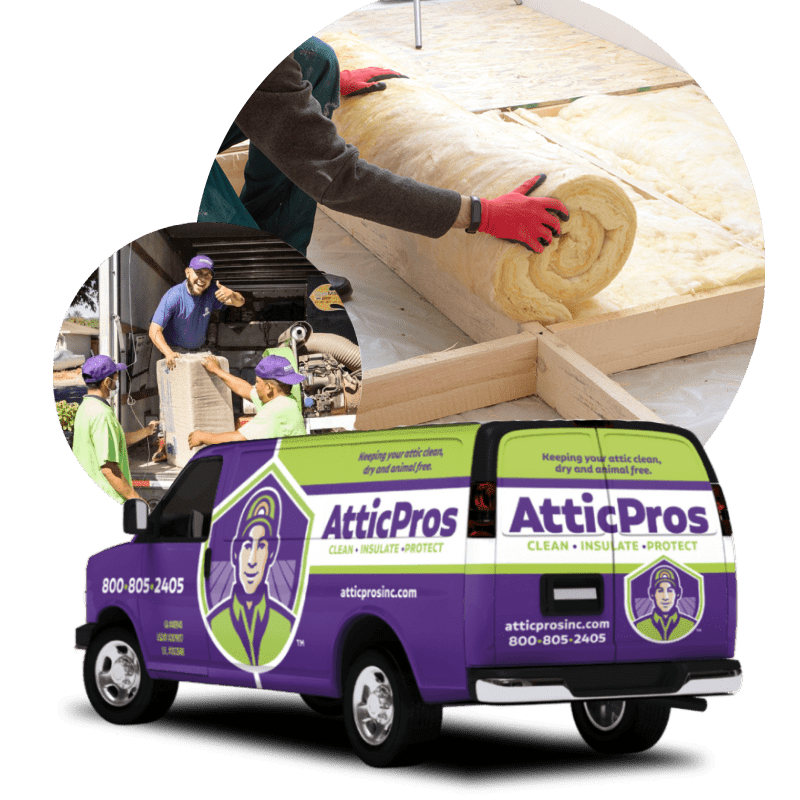 Get Started with Insulation Installers' Services
Effortlessly Protect Your Property with Top-notch Insulation Solutions
Schedule Your FREE Inspection
Our team will arrange a visit to your property, assess your insulation needs, and then provide you with a comprehensive estimate detailing costs and installation timeframe.
Enhance Your Property's Efficiency with Quality Insulation
Once you're ready to proceed, we'll confirm the installation date. Our skilled professionals will meticulously install the insulation, ensuring your property is shielded with effective insulation solutions.
Continual Support and Assurance
Prior to completion, we conduct a thorough inspection to guarantee your utmost satisfaction. We're dedicated to providing ongoing assistance and will follow up to ensure the continued effectiveness of your insulation system.
Based on 863 Google reviews
Schedule your FREE inspection and estimate right away!
Benefits of Insulation Installers:
Improved energy efficiency
Lower energy bills
Increased comfort in all seasons
Reduced noise pollution
Enhanced indoor air quality
Increased home value
Protection against moisture and mold
Decreased carbon footprint
An important point to remember: Don't attempt to tackle the insulation on your own. The insulation should not be tried on your own.
Do you want to spend your weekends wrestling with fiberglass batts and crawling around in cramped attics? DIY insulation installation is not only time-consuming and uncomfortable, but it's also risky if you don't have the proper safety gear and knowledge.
Trust the experienced insulation installers at Attic Pros to handle the job efficiently and safely. Schedule your free estimate now.
Book Your Free  Inspection For Insulation Here
Book a Free Estimate – (800) 543-0382
Attic Pros offers a detailed inspection report for every customer we work with. Here's what we include:
Check for proper insulation levels: We will ensure that your insulation is at the correct levels to keep your home comfortable and energy-efficient.
Evaluate insulation condition: We will inspect your insulation for any signs of damage or wear and tear that may need to be addressed.
Assess ventilation: Proper ventilation is key to maintaining good indoor air quality. Our inspection will evaluate whether your home has adequate ventilation.
Check for moisture issues: Moisture can harm your insulation and lead to other problems like mold growth. Our inspection will identify any potential moisture issues.
Inspect for rodent activity: Rodents can cause significant damage to insulation, so we will examine your insulation for any signs of rodent activity.
Review overall attic/crawl space condition: We will provide an overall evaluation of your attic or crawl space's condition, including any additional recommendations or concerns.
At Attic Pros, we are committed to providing thorough inspections and high-quality services to improve your home's energy efficiency and indoor air quality. Say goodbye to inefficient insulation and hello to a more comfortable and healthy home by contacting us today!
Are There Any Government Incentives Or Rebates For Insulation Installation?
Federal Tax Credits
The federal government offers tax credits to homeowners who install insulation and other energy-efficient upgrades in their homes. For example, you can receive a tax credit for 10% of the cost of qualifying insulation products, up to a maximum credit of $500. This credit is available through the end of 2021.
State And Local Incentives
In addition to federal tax credits, many states and municipalities offer incentives and rebates for insulation installation. These programs vary widely, so it's a good idea to check with your state's energy department or local utility company to see if any programs are available in your area.
Utility Rebates
Many utility companies offer rebates to homeowners who upgrade their insulation. These rebates can cover a portion of the cost of insulation installation and can vary widely depending on your location and the type of insulation you install. Check with your utility company to see if they offer any rebate programs for insulation installation.
Energy Star Certification
If you install insulation that meets Energy Star requirements, you may be eligible for additional incentives and rebates. Energy Star is a program that identifies energy-efficient products and practices, including insulation. Check the Energy Star website for information on qualifying insulation products and any associated incentives or rebates.
Fully Licensed & Insured
Our professionally licensed and trained technicians deliver work of the very highest standard.
Satisfaction Guaranteed
Enjoy peace of mind with our 1-Year Craftsmanship Warranty and hassle-free customer service.
Transparent Pricing
No hidden prices or upfront fees. Our detailed estimates give you exact prices and service items.
Dealing with Insulation Issues?
Book your FREE Inspection today!
Here's what your free inspection includes:
"They did exactly what they said they would do. Polite people at all levels. Nico explained what they could do with our problem..."
Frequently
Asked Questions
Insulation installers are responsible for installing insulation materials in residential, commercial, and industrial buildings, ensuring that they are properly fitted to maintain optimum temperature levels within the premises. They also evaluate the insulation needs of a building, select the appropriate materials, and provide cost-effective solutions.
To ensure the insulation installer is using the correct type of insulation, you can ask for documentation or proof that the insulation meets the required R-value and is appropriate for the intended use. Additionally, you can check for any national or local building codes and regulations that apply to the insulation installation to make sure it is up to code.
Locally owned and operated
Proudly serving the Greater Bay Area
Alameda
Albany
Ashland
Berkeley
Castro Valley
Cherryland
Dublin
Emeryville
Fairview
Fremont
Hayward
Livermore
Newark
Oakland
Piedmont
Pleasanton
San Leandro
San Lorenzo
Union City
Alamo
Antioch
Brentwood
Concord
Danville
Discovery Bay
Lafayette
Martinez
Moraga
Oakley
Orinda
Pinole
Pittsburg
Pleasant Hill
Richmond
Rodeo
San Pablo
San Ramon
Walnut Creek
Belmont
Burlingame
Daly City
East Palo Alto
Foster City
Half Moon Bay
Hillsborough
Menlo Park
Millbrae
North Fair Oaks
Pacifica
Redwood City
San Bruno
San Carlos
San Mateo
South San Francisco
Alum Rock
Campbell
Cupertino
Gilroy
Los Altos
Los Gatos
Milpitas
Morgan Hill
Mountain View
Palo Alto
San Jose
Santa Clara
Saratoga
Stanford
Sunnyvale
American Canyon
Angwin
Calistoga
Deer Park
Napa
Oakville
Rutherford
Silverado Resort
St. Helena
Yountville
Based on 863 Google reviews
Schedule your FREE inspection and estimate right away!
Take a look at what our customers are saying…
Based on 863 Google reviews