Reach Higher Levels of Energy Efficiency With Blown-In Insulation From Attic Pros
Are you looking for the "best blown-in insulation services near me"? The team at Attic Pros has you covered with fast blown-in insulation installation for homes and businesses in the San Francisco Bay Area.
To learn more about how blown-in insulation can maximize your home's energy efficiency, call Attic Pros for a free insulation consultation today.
Benefits Of Blown-In Insulation:
When you are looking for the best insulation to provide increased comfort, greater energy efficiency, and improved air quality for your home, consider blown-in insulation installation from the professional contractors at Attic Pros.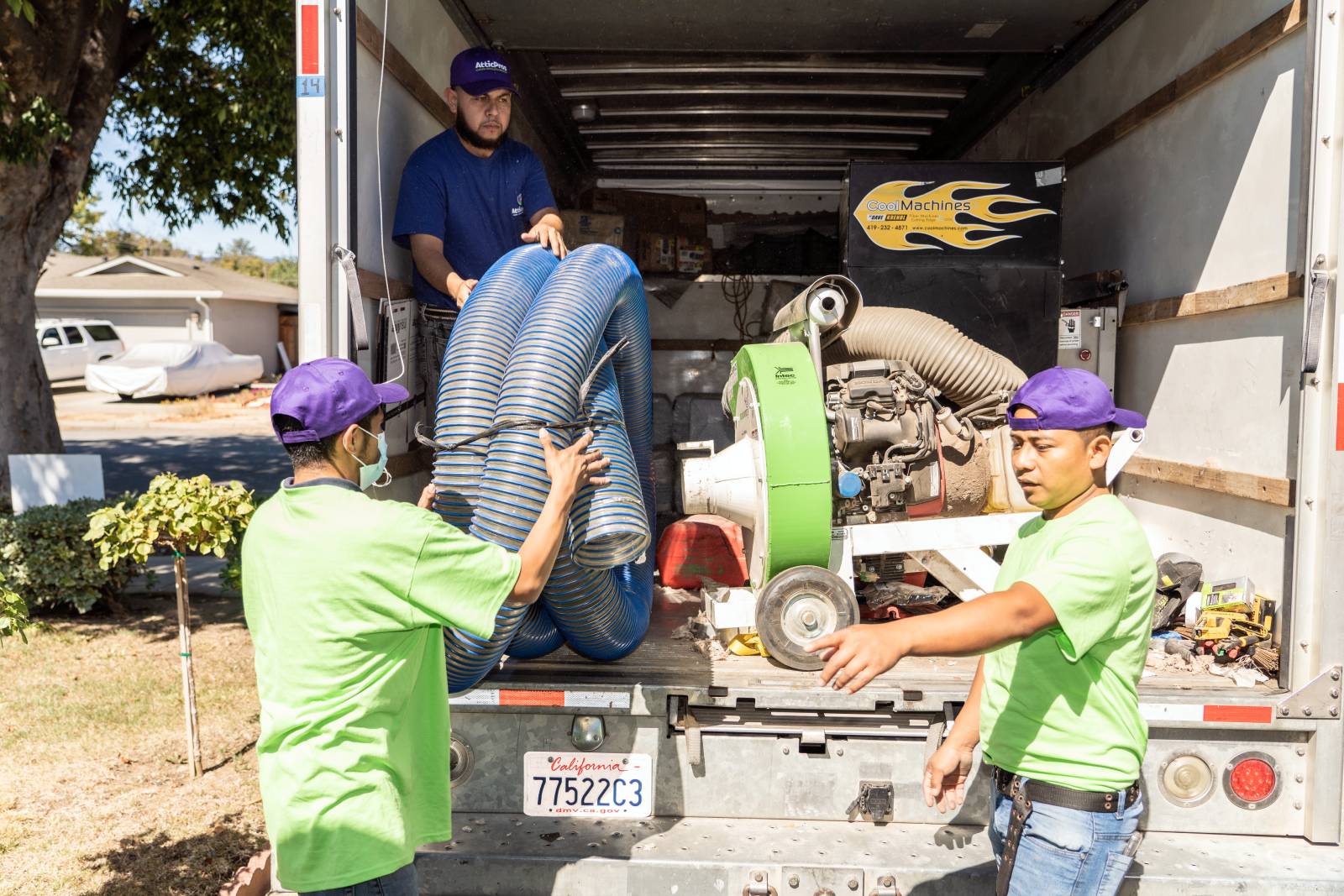 What Is Blown-In Insulation?
Blown-in insulation is one of the most effective insulation options for your attic, crawl space, basement, and walls. There are two main types of blown-in insulation: fiberglass and cellulose. Attic Pros will work with you to determine which material will be the best choice to insulate your home or business, depending on your specific insulation goals and budget constraints.
Blown-in insulation outperforms typical batt insulation in most residential applications, and maximizes the energy efficiency of your home. In fact, blown-in insulation can be over 20% more energy-efficient than fiberglass batts, as it provides flexible airtight coverage. Blown-in insulation can cover large areas quickly, and can easily reach hard-to-access spots. It can seamlessly cover wood beams, wiring, plumping, and pipes, and since it covers all points of entry, blown-in insulation is one of the best solutions to keep out mice and other rodents.
Whether you choose fiberglass blown-in insulation or cellulose blown-in insulation, they are both environmentally friendly solutions made with sustainable recycled materials.
Book your FREE blown-in insulation estimate online now!
Your Go-To Provider For The Best Blown-In Insulation Services in the San Francisco Bay Area
Call Attic Pros when you're looking for the "best blown-in insulation company near me"!
Call us for your FREE insulation inspection today! The initial investment may be higher than other forms of insulation, but the cost of blown-in insulation will pay for itself quickly.
Many homeowners report savings of up to 50% on their monthly utility bills, making blown-in insulation an ideal option for residential homes. It&nbspwill provide you with consistent temperature regulation, and will also increase the value of your home. Due to the airtight barrier created, it also improves the performance and longevity of your HVAC system.
Our team of licensed insulation contractors uses the most efficient tools and commercial-grade equipment available to ensure seamless and efficient results for our clients.
Call Attic Pros for your free blown-in insulation cost estimate today.
Attic Pros is proud to offer exceptional service, top-notch results, and a 100% satisfaction guarantee to our clients in the San Francisco Bay Area. Check out what some of our happy clients are saying about our high-quality insulation services!
Contact Attic Pros To Experience Top-Quality Blown-In Insulation Services In The San Francisco Bay Area
Our clients deserve exceptional service and results that exceed their expectations!
To learn more about the benefits of blown-in insulation, call our team of experienced insulation contractors today.
Give us a call, or book your free insulation inspection online now.