Based on 863 Google reviews
Mold Removal and Remediation: Creating a Healthy Living Environment
Attic Pros is your trusted partner for professional mold removal and remediation services in the San Francisco Bay Area. We understand the importance of maintaining a healthy living environment for every kind of property owner, investor, and manager. With our skills and dedication, we provide comprehensive solutions that address mold issues and restore the integrity of your property.
Contact us now to schedule your free inspection and get your quote immediately.
"They did exactly what they said they would do. Polite people at all levels. Nico explained what they could do with our attic insulation inquiry..."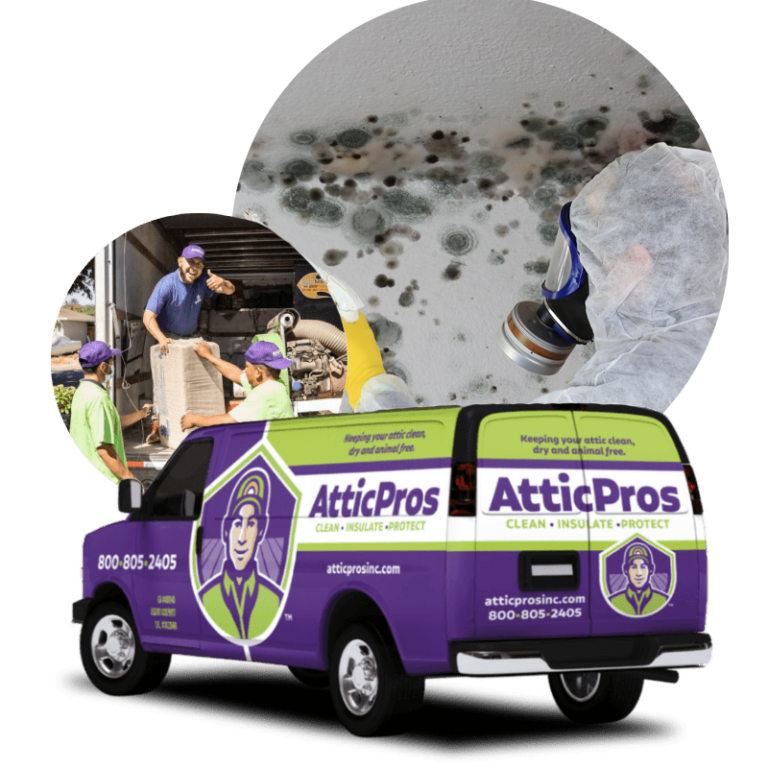 Get started in 3 simple steps
Our Process: Discover How We Effectively Remove Mold From San Francisco Properties
Mold inspection
Our experts conduct a detailed inspection to assess the extent of mold growth and identify the underlying causes.
Mold removal
Using advanced techniques and equipment, we safely and efficiently remove the mold, ensuring a thorough elimination.
Remediation and prevention
We implement preventive measures to ensure long-lasting effects and provide recommendations to prevent future mold issues.
Based on 863 Google reviews
Schedule your FREE inspection and estimate right away!
Say Goodbye to Mold: Expert Mold Removal and Remediation Services
At Attic Pros, we specialize in mold removal and remediation, offering tailored solutions to meet the unique needs of our clients. Mold growth can have detrimental effects on your property and health, causing structural damage, unpleasant odors, and respiratory issues.
Our team of certified professionals utilizes industry-leading techniques and equipment to eliminate mold at its source, ensuring a clean and safe environment for everyone under your roof.
Benefits of Professional Mold Removal Services
Inspect mold thoroughly: Our experts conduct a comprehensive assessment to identify the extent of mold growth and determine the most effective course of action.
Avoid disrupting your routine: We remove mold in a timely manner, minimizing disruption to your daily routine.
Prevent and remediate mold: Our team removes existing mold and implements preventive measures to minimize the risk of future mold growth.
Improve health and safety: We prioritize your well-being, implementing stringent safety protocols to protect you, your family, and our team during the removal process.
Restore your property: We offer restoration services to repair any mold damage, bringing your property to its original condition.
Fully Licensed & Insured
Our professionally licensed and trained technicians deliver work of the very highest standard.
Satisfaction Guaranteed
Enjoy peace of mind with our 1-Year Craftsmanship Warranty and hassle-free customer service.
Transparent Pricing
No hidden prices or upfront fees. Our detailed estimates give you exact prices and service items.
Frequently
Asked Questions
Common signs include a musty odor, visible mold growth, water damage, or allergy-like symptoms such as coughing and wheezing. Our experts can conduct a thorough inspection to confirm mold presence.
Mold can negatively impact your health, especially if you have allergies, asthma, or a compromised immune system. Prompt mold removal is critical to protect your well-being.
DIY mold removal can be risky and ineffective, as it may spread mold spores and fail to address the root cause. Instead, rely on professionals who have the expertise and proper equipment to handle mold removal safely and effectively.
Locally owned and operated
Proudly serving the Greater Bay Area
Alameda
Albany
Ashland
Berkeley
Castro Valley
Cherryland
Dublin
Emeryville
Fairview
Fremont
Hayward
Livermore
Newark
Oakland
Piedmont
Pleasanton
San Leandro
San Lorenzo
Union City
Alamo
Antioch
Brentwood
Concord
Danville
Discovery Bay
Lafayette
Martinez
Moraga
Oakley
Orinda
Pinole
Pittsburg
Pleasant Hill
Richmond
Rodeo
San Pablo
San Ramon
Walnut Creek
Belmont
Burlingame
Daly City
East Palo Alto
Foster City
Half Moon Bay
Hillsborough
Menlo Park
Millbrae
North Fair Oaks
Pacifica
Redwood City
San Bruno
San Carlos
San Mateo
South San Francisco
Alum Rock
Campbell
Cupertino
Gilroy
Los Altos
Los Gatos
Milpitas
Morgan Hill
Mountain View
Palo Alto
San Jose
Santa Clara
Saratoga
Stanford
Sunnyvale
American Canyon
Angwin
Calistoga
Deer Park
Napa
Oakville
Rutherford
Silverado Resort
St. Helena
Yountville
Based on 863 Google reviews
Schedule your FREE inspection and estimate right away!
What People Say About Attic Pros Mold Removal Services
Based on 863 Google reviews
Get Started: Choose Attic Pros for Professional Mold Removal
With our experienced team, proven techniques, and commitment to customer satisfaction, Attic Pros is your go-to solution for mold removal and remediation in the San Francisco Bay Area. Contact us today!