Based on 863 Google reviews
If you're in need of rodent removal in Dublin, look no further than the experts at Attic Pros. We'll get rid of those critters and help you keep them from coming back.
Contact us now to schedule your free inspection and get your quote immediately.
"They did exactly what they said they would do. Polite people at all levels. Nico explained what they could do with our rodent removal..."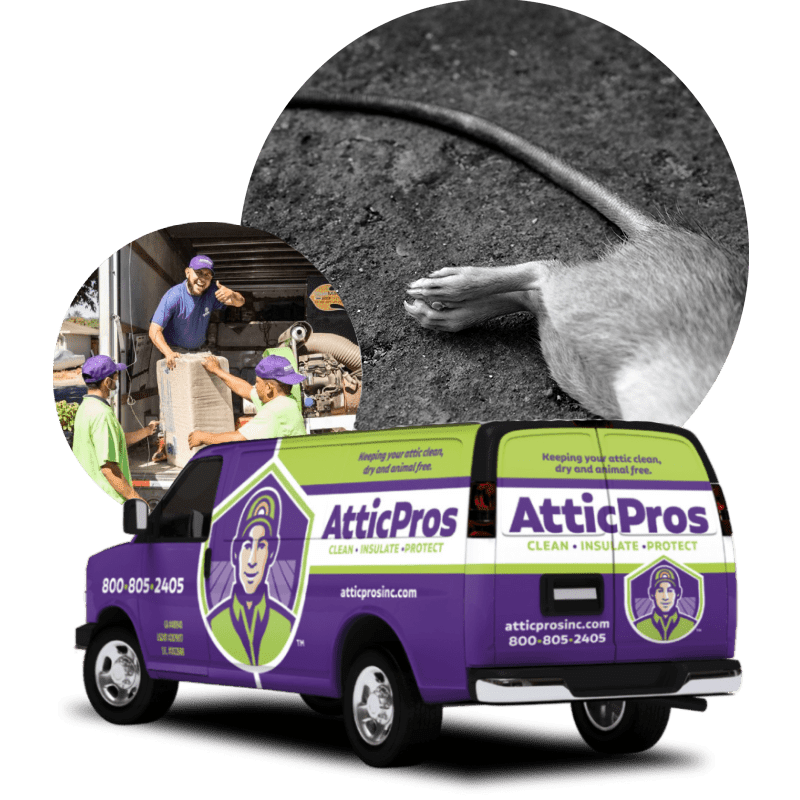 Get started in 3 simple steps
It's This Easy to Protect Your Property from Rodent Infestations
Schedule Your FREE Inspection
We will visit your property, assess your rodent infestation needs, and provide a comprehensive estimate, including both cost and removal timeline.
Secure Your Property with Effective Rodent Removal Techniques
Once you decide to proceed, we'll set a date for the removal process. Our experienced team will ensure meticulous removal of rodents, safeguarding your property from infestations.
Continual Support and Assurance
Before we leave, we will perform a thorough review to ensure your complete satisfaction. We are always available for ongoing support and will follow up with you later to confirm the effectiveness of our Rodent Removal service.
Based on 863 Google reviews
Schedule your FREE inspection and estimate right away!
If you are dealing with a rodent problem in your home or business, it is important to take action immediately. Not only are rodents unsightly, but they can also be dangerous. Rodents can spread diseases and contaminate food supplies. It is important to call a professional rodent removal service if you are dealing with an infestation.
What Is Rodent Infestation?
Rodent infestation is an issue that can affect both residential and commercial properties in Dublin. Rodents such as mice, rats, gophers, and squirrels can cause significant damage to buildings, furniture, and equipment. They also carry dangerous diseases like hantavirus and salmonella, which can be transmitted through their droppings or urine. Rat control is difficult, and it is important to contact a professional pest control service to address the problem.
The presence of rodents can be identified by sightings or the discovery of nesting materials, chewed-up food containers, or small droppings around your property. If you suspect a rodent infestation in your home or business in Dublin, it is essential to take quick action before the problem escalates. Dublin pest control professionals can help you identify rodent issues and provide effective solutions to eradicate them.
Types Of Rodents
Mice and rats are the most common types of rodents found in Dublin. Both can cause extensive damage to your property and carry a variety of diseases that pose a health risk.
Gophers, voles, and squirrels are also known to inhabit residential areas in Dublin, though not as common as mice or rats. Gophers can be particularly destructive due to their burrowing habits, creating large mounds of dirt in yards or gardens. Wild animals like foxes, mouse problems, and opossums can also be a nuisance in Dublin.
How To Identify The Type Of Rodent Infestation
The type of rodent infestation can be identified by the size and shape of droppings left behind. Mouse droppings are usually smaller than rats, which tend to be more oval-shaped. Gophers, voles, and squirrels also leave distinctive signs, like holes in lawns or chewed-up nuts/seeds near entry points. Bird control is also necessary, as birds can be attracted to areas with rodent activity.
Preventing Rodents From Entering Your Home
The best way to prevent rodent infestation is to keep them out of your home in the first place. Seal up any cracks or gaps around windows and doors, and ensure that all vents are properly screened. Keep food stored in airtight containers, and dispose of all garbage regularly. Pest control companies can also provide additional advice and help prevent future infestations. Professional pest control services also offer wildlife removal from residential or commercial properties.
What Happens During A Rodent Removal?
When you hire a professional rodent removal service in Dublin, they will first inspect your property for signs of rodents. Once the source of the infestation is determined, they will implement an appropriate plan to trap and remove all pests from your home or business. Snake removal may also be necessary if you have snakes on your property.
The team will use traps and bait to eliminate any remaining rodents and seal up potential entry points to prevent future infestations. Pest control services may also work with an exterminator to eradicate the infestation.
We're Attic Pros and provide top-notch rodent removal services in Dublin. Pest control in Dublin is challenging, so it requires the right expertise. We use state-of-the-art methods to effectively remove rats, mice, and other vermin from residential and commercial properties. Contact us today for a free consultation!
Fully Licensed & Insured
Our professionally licensed and trained technicians deliver work of the very highest standard.
Satisfaction Guaranteed
Enjoy peace of mind with our 1-Year Craftsmanship Warranty and hassle-free customer service.
Transparent Pricing
No hidden prices or upfront fees. Our detailed estimates give you exact prices and service items.
Experiencing rodent issues?
Book your FREE Inspection today!
Here's what your free inspection includes:
"They did exactly what they said they would do. Polite people at all levels. Nico explained what they could do with our Rodent Removal problems..."
Frequently
Asked Questions
The best way to get rid of rodents in Dublin is by using an eco-guard pest management approach. This strategy involves exclusion, sanitation, habitat modification, and regular monitoring. Dead animal removal and exclusion measures such as sealing entry points, installing chimney caps and screens, and using bait stations are essential for rodent control.
Exclusion is crucial for rodent control in Dublin because it prevents rodents from entering the home or business. Use caulk and steel wool to seal cracks and holes, as these are common entry points.
Sanitation is another crucial step in rodent control. Keep food stored securely in metal or glass containers with tight-fitting lids, and do not leave any food out overnight. Clean up spills, crumbs, and messes immediately, and dispose of garbage properly in sealed containers. Pest eliminators can help identify and remove any food sources that may attract rodents.
If you have a rodent problem in Dublin, don't delay – contact us at Attic Pros immediately for fast and effective service! We will inspect the area and provide pest control services to eliminate rodents and keep them from returning.
Locally owned and operated
Proudly serving the Greater Bay Area
Alameda
Albany
Ashland
Berkeley
Castro Valley
Cherryland
Dublin
Emeryville
Fairview
Fremont
Hayward
Livermore
Newark
Oakland
Piedmont
Pleasanton
San Leandro
San Lorenzo
Union City
Alamo
Antioch
Brentwood
Concord
Danville
Discovery Bay
Lafayette
Martinez
Moraga
Oakley
Orinda
Pinole
Pittsburg
Pleasant Hill
Richmond
Rodeo
San Pablo
San Ramon
Walnut Creek
Belmont
Burlingame
Daly City
East Palo Alto
Foster City
Half Moon Bay
Hillsborough
Menlo Park
Millbrae
North Fair Oaks
Pacifica
Redwood City
San Bruno
San Carlos
San Mateo
South San Francisco
Alum Rock
Campbell
Cupertino
Gilroy
Los Altos
Los Gatos
Milpitas
Morgan Hill
Mountain View
Palo Alto
San Jose
Santa Clara
Saratoga
Stanford
Sunnyvale
American Canyon
Angwin
Calistoga
Deer Park
Napa
Oakville
Rutherford
Silverado Resort
St. Helena
Yountville
Based on 863 Google reviews
Schedule your FREE inspection and estimate right away!
Take a look at what our customers are saying…
Based on 863 Google reviews