Based on 863 Google reviews
Rodent Removal Pleasanton
Are you looking for the best rodent removal in Pleasanton, CA? Call us today to get your house cleaned up.
Contact us now to schedule your free inspection and get your quote immediately.
"They did exactly what they said they would do. Polite people at all levels. Nico explained what they could do with our rodent removal..."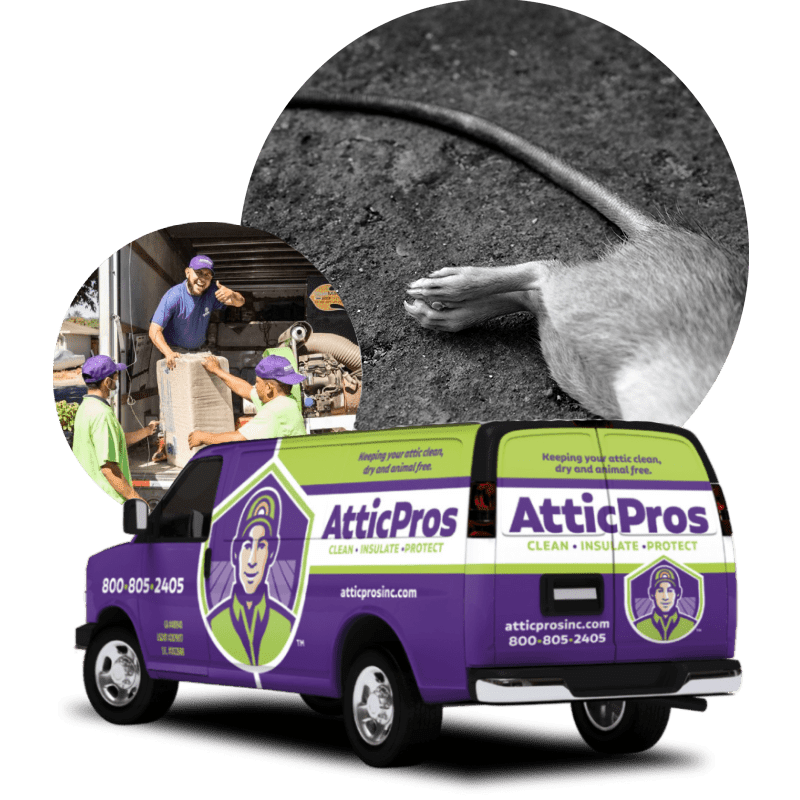 Get started in 3 simple steps
It's This Easy to Protect Your Property from Rodent Infestations
Schedule Your FREE Inspection
We will visit your property, assess your rodent infestation needs, and provide a comprehensive estimate, including both cost and removal timeline.
Secure Your Property with Effective Rodent Removal Techniques
Once you decide to proceed, we'll set a date for the removal process. Our experienced team will ensure meticulous removal of rodents, safeguarding your property from infestations.
Continual Support and Assurance
Before we leave, we will perform a thorough review to ensure your complete satisfaction. We are always available for ongoing support and will follow up with you later to confirm the effectiveness of our Rodent Removal service.
Based on 863 Google reviews
Schedule your FREE inspection and estimate right away!
It's a problem that no homeowner wants to experience: rodents invading their home. Whether they are mice, rats, or some other type of nuisance rodent, they bring dirt and disease wherever they go. If you have discovered the unwelcome presence of rodents in your living space, it is important to take action quickly to get rid of them for good. In this blog post, we'll dive into the steps needed for successful rodent removal from your home so you can be sure these critters don't bother you again!
What Is Rodent Removal?
Rodent removal is exactly what it sounds like getting rid of mice, bed bugs, invasions, rats, and any other rodents that have wandered into or been actively living in your home. This process can be done through traps, repellents, poisons, and more – all designed to ensure that these uninvited guests are gone for good. A professional pest control company can help you with this process, as they have the necessary experience and resources to do it properly. Thorough inspection and identification of the infestation are crucial to finding a successful solution.
How To Effectively Remove Rodents From Your Home
Once you have identified the type of rodent infesting your home, it's time to take action and remove them from your living space. Depending on the type of rodent control, you may be able to trap them with humane traps or use deterrents such as peppermint oil to repel them away from your property. Additionally, some people choose to use poisons – although this should always be done carefully with expert advice and under professional guidance.  Wildlife trapping services may also be necessary to prevent future infestations of rodents.
Finally, it is important to prevent future infestations in your home. This may include sealing up entry points, installing screens on vents and windows, or ensuring food is stored correctly and trash cans are tightly sealed.
For Professional Rodent Removal In Pleasanton – Call Attic Pros!
When it comes to getting rid of rodents in your home, professional help can be invaluable. At Attic Pros, we're proud to offer Pleasanton pest control and the best rodent removal services. We also provide the best pest control services that are eco-friendly, non-toxic, and safe for your family.
We understand how difficult it can be when a pest problem invades your living space – so let us take care of the problem with our expert technicians. Contact us today to get started!
Fully Licensed & Insured
Our professionally licensed and trained technicians deliver work of the very highest standard.
Satisfaction Guaranteed
Enjoy peace of mind with our 1-Year Craftsmanship Warranty and hassle-free customer service.
Transparent Pricing
No hidden prices or upfront fees. Our detailed estimates give you exact prices and service items.
Experiencing rodent issues?
Book your FREE Inspection today!
Here's what your free inspection includes:
"They did exactly what they said they would do. Polite people at all levels. Nico explained what they could do with our Rodent Removal problems..."
Frequently
Asked Questions
The first step in rodent removal is identifying the type of rodent infesting your home. There are a few basic steps you can take to do this. First, look around your home for droppings or chew marks which may indicate where they are entering or exiting your space. You should also listen out for scurrying noises in the walls or attic and check for holes in your walls or foundation. You can also install motion-activated cameras to understand better what type of rodent is infesting your home. Mouse control and rat control will differ, so identifying the type of rodent is essential.
Locally owned and operated
Proudly serving the Greater Bay Area
Alameda
Albany
Ashland
Berkeley
Castro Valley
Cherryland
Dublin
Emeryville
Fairview
Fremont
Hayward
Livermore
Newark
Oakland
Piedmont
Pleasanton
San Leandro
San Lorenzo
Union City
Alamo
Antioch
Brentwood
Concord
Danville
Discovery Bay
Lafayette
Martinez
Moraga
Oakley
Orinda
Pinole
Pittsburg
Pleasant Hill
Richmond
Rodeo
San Pablo
San Ramon
Walnut Creek
Belmont
Burlingame
Daly City
East Palo Alto
Foster City
Half Moon Bay
Hillsborough
Menlo Park
Millbrae
North Fair Oaks
Pacifica
Redwood City
San Bruno
San Carlos
San Mateo
South San Francisco
Alum Rock
Campbell
Cupertino
Gilroy
Los Altos
Los Gatos
Milpitas
Morgan Hill
Mountain View
Palo Alto
San Jose
Santa Clara
Saratoga
Stanford
Sunnyvale
American Canyon
Angwin
Calistoga
Deer Park
Napa
Oakville
Rutherford
Silverado Resort
St. Helena
Yountville
Based on 863 Google reviews
Schedule your FREE inspection and estimate right away!
Take a look at what our customers are saying…
Based on 863 Google reviews